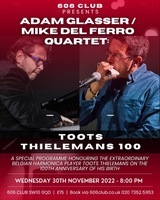 During 2022 the incredibly talented Dutch virtuoso pianist & composer Mike del Ferro has been performing worldwide a program collaborating with different harmonica players celebrating the 100th Anniversary of Toots Thielemans with whom Mike played some 150 concerts all over Europe, Japan, Taiwan, South Korea and the Caribbean over a 10-year period.
Adam Glasser and Mike first met at the Standard Bank Jazz Festival, Grahamstown South Africa. In May this year they renewed their connection in Brussels as contributors to the Toots Thielemans Centenary Conference at the Royal Library (KBR). Adam subsequently performed with Mike's Trio at the Brussels Jazz Weekend (as described in the recent HUK Magazine).

Mike will be making a one-off trip to London's 606 Club on Wednesday 30th November 2022 to perform with Adam in a gig celebrating their common love of Toots Thielemans' harmonica legacy. Not to be missed!

https://www.606club.co.uk/events/view/adam-glasser-mike-del-ferro-quartet-toots-thielemans-100/

Mike Del Ferro's unique sound is based on an exquisite harmonic approach to jazz piano combined with a sensibility for classical opera. Constantly touring internationally Mike has worked with many great jazz artists from Jack de Johnette to Branford Marsalis. His many recordings include the outstanding album 'Opera Meets Jazz' with the Metropole Orchestra. Mike has performed in South Africa many times (check out his collaborative album 'The Joburg Sessions' with key South African artists).

Adam Glasser is an internationally renowned exponent of the chromatic harmonica & South African township jazz. He has worked with a variety of artists including Sting, Joe Zawinul, and Hugh Masekela. His harmonica features on the title track of Abdullah Ibrahim's recent album 'The Balance' and earlier this year led a 7 piece SA Jazz Project in Johannesburg ConcertsSA. Adam has released two critically acclaimed albums 'Free at First' SAMA Award Best Jazz Album 2010 and 'Mzansi' nominated SAMA Award Best Jazz Album 2012.

Have you got a harmonica story? Upcoming gigs? Single or album release?
Newsdesk can help spread the word for you with our members
Please contact us at [email protected]
HarmonicaUK - Registered Charity 1131484 (England & Wales)