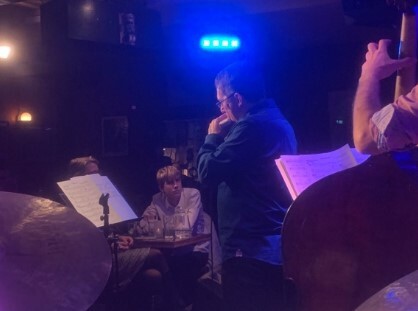 Patrick Byrne sent yhe following review into Newsdesk:
The 606 Club. Wednesday 30th November 2022
The Adam Glasser/Mike del Ferro Quartet.
Adam Glasser – chromatic harmonica
Mike del Ferro - piano
Steve Watts - bass
Corrie Dick – drums

Sam Spranger and I (Patrick Byrne) teamed to enjoy together this super exciting gig at the temple of British jazz, the 606 Club in Chelsea, London. It was not only special that as harmonica buffs, we were going to see our HarmonicaUK patron and prominent teacher Adam Glasser on harmonica but Adam had devised a great connection with the 100 years anniversary of 'Toots Thielemans by teaming up with Mike del Ferro who played often with Toots in the later years. Checkout this lovely version of 'Over the Rainbow' with Mike on piano with orchestra and Toots soaring above on harmonica.
https://open.spotify.com/track/4uo7QX6v1Ec65p3c58eR5V?si=d6f766788c8a4303.
Completing the rhythm section were Steve Watts on double bass and Corrie Dick on drums. The set started with a delicate rendering of a beautiful Jobim ballad 'Chovendo Na Roseiro', then a rousing version of 'Green Dolphin Street'. It immediately became obvious that there was more than the usual connection here between piano and soloist, Mike del Ferro showed a natural sympathy with Adam's harmonica lines and the balance of sound was very pleasant. During 'Three Views of a Secret' again, one felt the lines going back to Toots and Jaco Pastorius. Adam dedicated 'Blues for Zim' from his 'Mzansi' album to an old south African saxophone buddy. This featured a stormingly rhythmic piano solo from Mike del Ferro which was really a duet with drummer Corrie Dick who echoed back these rolling south African dance grooves. Mike has also recorded with the Metropole Orchestra and we heard his delightful Brindisi, and 'Non ti scordar' from his album with the Orchestra ' Opera meets jazz'.
As Adam got into his stride we saw him swapping between a Hohner CX12 and a Suzuki SX 48, to my mind the Suzuki had the brighter sound, but this may be just taste. Later Adam said he was trying to make his mind up between the two instruments. His playing is strongly tinged by what you might call classic Wonder/Thielemans dynamics with a crisp approach to harmony and delicate lines, then an overlay of South African township grooves, makes for a harmonica tour de force. Later Mike del Ferro began adding some keyboard orchestral lines behind the piano and harmonica and the sound became very full and spacy. The evening ended with a very deep version of 'In a Sentimental Mood' which featured a long and ruminative solo on piano by Mike and some beautiful lyric playing by Adam. He reminded us that he has been playing at the 606 for 40 years and may there be another 40 to go. A lovely gig.
Patrick Byrne

Have you got a harmonica story? Upcoming gigs? Single or album release?
Newsdesk can help spread the word for you with our members
Please contact us at [email protected]

HarmonicaUK - Registered Charity 1131484 (England & Wales)