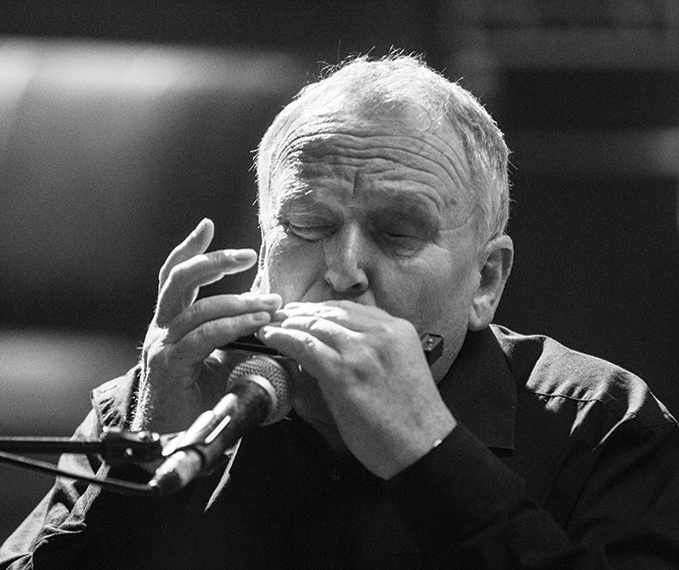 Well known in the world of harmonica Mick Kinsella's music ranges from blues to jazz,
traditional Irish and world music. Coming from a drumming background his music
is always played with a strong rhythm. On his album 'Harmonica' he plays
chromatic, diatonic, congas, snare drum and various percussion instruments as
well as bass harmonica. 'Harmonica' is an eclectic album featuring Mick's love of
all musical styles and includes musette, traditional Irish music, blues, tango
and some self-penned jazz inflected tunes using overblows. He also pays homage
to Brendan Power with a flute and harmonica version of the New Zealander's
beautiful tune 'Japuneasy'. Also included is 'Take me home', an instrumental
version of Rory Mc Leod's great song, and features Mick's talents on
percussion.
The lament - Tiarna Mhuigheo features Kinsella playing English concertina and racked
harmonica in unison. A technique learned from the playing of Rick Epping. Mick
is also a studio musician and has guested on over a hundred albums to date
including Michael Flately's 'Feet of flame'. He has also featured on numerous
film scores including Billy Conolly's 'World tour of England, Ireland, Scotland
and Wales'.
Mick and Rick Epping are long standing harmonica tutors at the Willie Clancy week in County Clare.
Another album titled 'Steve Larkin and Mick Kinsella', is a traditional album with fiddle
player Steve Larkin and features some of Mick's own traditional compositions.

Have you got a harmonica story? Upcoming gigs? Single or album release?
Newsdesk can help spread the word for you with our members
Please contact us at [email protected]

HarmonicaUK - Registered Charity 1131484 (England & Wales)