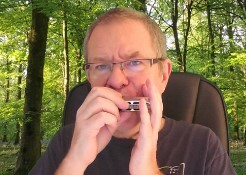 Ben Hewlett - Vice President and otherwise fairly sensible person - wrote to newsdesk with an email entitled 'Chugga Chugga Choo Choo'. He then went on to say:
No! I haven't regressed to my 2 year old self…
…honestly.
At least I don't think so…
Though I'll admit as a young 'un I probably said a lot of "Chugga Chugga Choo Choos".
The thing is…
…I've probably said even more childish things like that over the last 25 years than I EVER did when I was still wearing nappies and needed burping after dinner.
The difference now is…
…I say them into my harmonica.
Uh?
Why would I do that?
Well the technical term for it is "Vamping", though I prefer the more popular term which is "Chugging".
"Chugga Chugga Choo Choo" is an example of a chug.
It's the harmonica equivalent of rhythm guitar.
And being able to chug is the first skill a good harmonica teacher will get you proficient at.
Why?
Reason #1 - it's easy to do and you can be up and chugging in just a couple of minutes, even if you're a complete beginner.
Reason # 2 - It's the foundation of all good harmonica playing, especially the blues.
The beauty of chugging is that you can sound like a pro harp player even in your very first lesson!
I know when I show you how to chug, you'll be hooked on playing the harmonica…
…because you'll be able to play along to to any blues track you want.
That's why an entire module is dedicated to chugging in my Blues Harmonica Challenge.
By the end of the challenge, you'll not only impress yourself, but you'll ALSO be able to impress your family and friends as well…
…and it starts with learning to chug.
The next challenge starts next week.
You can find all about it in this google doc I've put together for you.
>>>Click here now to find out how you can start chugging and sound like a pro too.
Speak soon.
Ben "I talk to my harmonica" Hewlett

Have you got a harmonica story? Upcoming gigs? Single or album release?
Newsdesk can help spread the word for you with our members
Please contact us at [email protected]

HarmonicaUK - Registered Charity 1131484 (England & Wales)