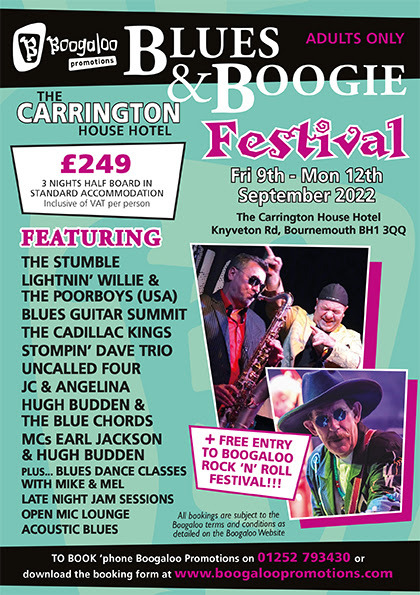 This festival is just £249 per person including accommodation, dinner and breakfast, and all of the music.
Book the Blues & Boogie Festival and you get to go to the Rock 'n' Roll festival FREE of charge! That's TWO festivals for the price of ONE!
A fabulous line-up including:
The Stumble
Lightnin' Willie
The Cadillac Kings
The Blues Guitar Summit
The Achievers
Stompin' Dave's Blues Trio
Late night jam sessions,
Acoustic blues
Open Mic lounge
Blues dance classes with Mike & Mel
And the Rock 'n' Roll Festival line-up!
Full details are on the website.
Have you got a harmonica story? Upcoming gigs? Single or album release?
Newsdesk can help spread the word for you with our members
Please contact us at [email protected]

HarmonicaUK - Registered Charity 1131484 (England & Wales)