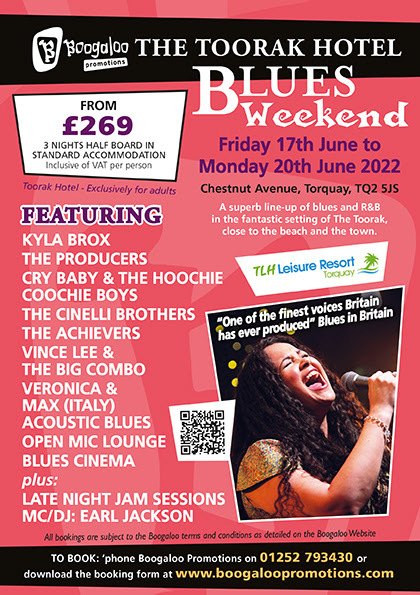 The Toorak hotel is famous for its friendly staff, great facilities and fabulous food. It's excellent value at just £269 per person including hotel accommodation, dinner and breakfast, plus leisure facilities and free parking. They still have a few rooms left (not many!) so if you'd like to go please get in touch!
★ Kyla Brox
★ The Producers
★ Cry Baby & The Hoochie Coochie Boys
★ The Cinelli Brothers
★ The Achievers
★ Vince Lee & The Big Combo
★ Veronica & Max (Italy)
★ Jam Sessions
★ MC/DJ Earl Jackson
Plus Open Mic Lounge and Blues Cinema!
Full details are on this website.
Have you got a harmonica story? Upcoming gigs? Single or album release?
Newsdesk can help spread the word for you with our members
Please contact us at [email protected]

HarmonicaUK - Registered Charity 1131484 (England & Wales)