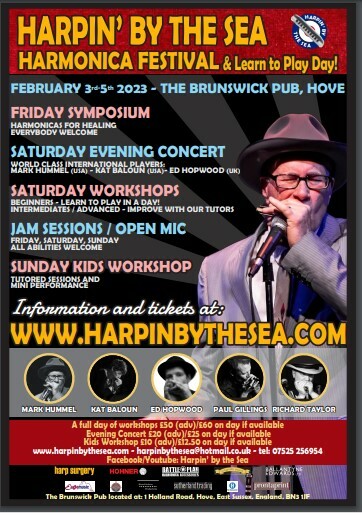 After the previous covid affected festivals - Harpin' By The Sea is back live for 2023, with their twelfth fantastic festival and another stunning programme of workshops, guest artists from home and abroad, trade sponsors, kid's workshop and afternoon blues jam. Tickets are already on sale for the festival taking place on 3rd to 5th February 2023 in Brighton.
They are also delighted to announce their inaugural Harmonicas For Healing symposium, directed by Chris Startup. And don't forget the world-famous prize raffle!
Access their website for more details and buy tickets at harpinbythesea.com.

Have you got a harmonica story? Upcoming gigs? Single or album release?
Newsdesk can help spread the word for you with our members
Please contact us at [email protected]
HarmonicaUK - Registered Charity 1131484 (England & Wales