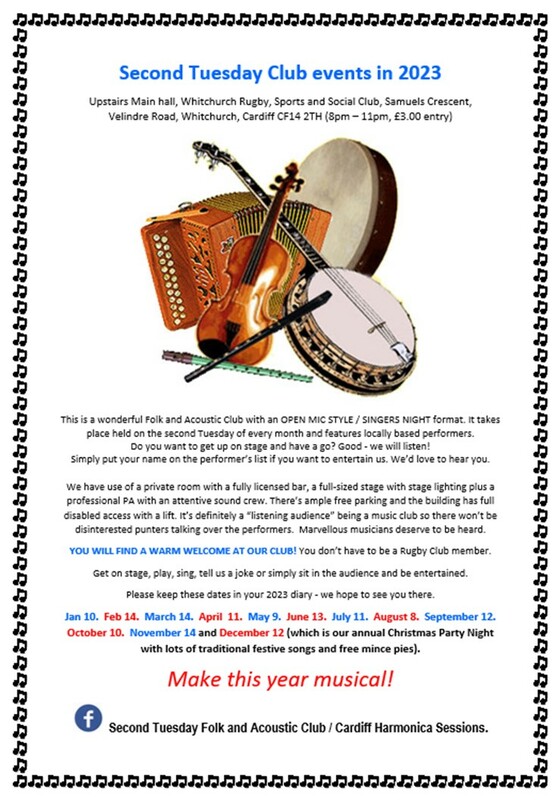 This month 12th September.
Second Tuesday club - Whitchurch Cardiff - held on the second Tuesday of every month and features locally based performers.

Do you want to get up on stage and have a go? Good - we will listen!
Simply put your name on the performer's list if you want to entertain us. We'd love to hear you.
We have use of a private room with a fully licensed bar, a full-sized stage with stage lighting plus a professional PA with an attentive sound crew. There's ample free parking and the building has full disabled access with a lift. It's definitely a "listening audience" being a music club so there won't be disinterested punters talking over the performers. Marvellous musicians deserve to be heard.
YOU WILL FIND A WARM WELCOME AT OUR CLUB! You don't have to be a Rugby club member.
Get on stage, play, sing, tell us a joke or simply sit in the audience and be entertained.
Please keep these dates in your 2023 diary - we hope to see you there.
June 13. July 11. August 8. September 12. October 10. November 14 and December 12 (which is our annual Christmas Party Night with lots of traditional festive songs and free mince pies).
Make this year musical!
Second Tuesday Folk and Acoustic Club / Cardiff Harmonica Sessions.

Have you got a harmonica story? Upcoming gigs? Single or album release?
Newsdesk can help spread the word for you with our members
Please contact us at [email protected]
HarmonicaUK - Registered Charity no. 1131484 (England & Wales)