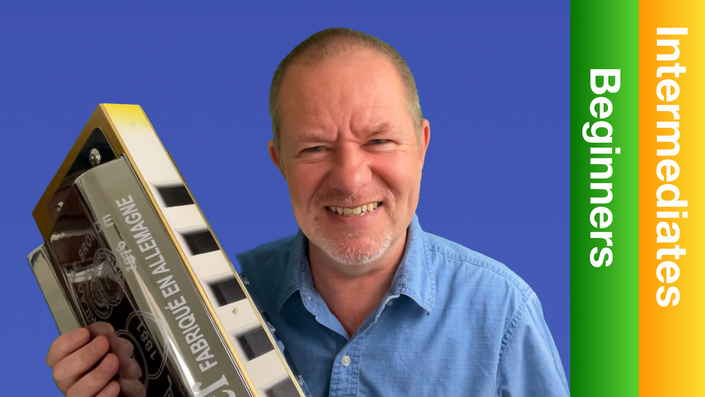 Ben Hewlett of Sonnyboys music store and Harmonica Mastery (and many others) wrote to us recently with the following email:
This question took me by surprise, it was a request I didn't see coming…
It was the last live session on my most recent (and completely famous) Blues Harmonica Challenge
The zoom room was full of budding blues men and women.
All eager to demonstrate what they'd learnt.
They'd spent the previous 6 days getting to grips with the foundations of becoming a great blues harp player.
This was the "open mic" slot.
One by one they stepped up to blow, draw and even bend a bit.
They'd each made impressive steps forward - even the complete beginners.
And then my last student stepped up and asked this:
" Can I chug in Welsh?"
I'll admit, it's not a question I get asked very often so it surprised me.
"Of course you can" I replied once I'd regathered my harmonica sense (it's like Spiderman's spider sense…just noisier!)
And so he did…
This is the longest town name in Wales:
Llanfairpwllgwyngyllgogerychwyrndrobwllllantysiliogogogoch
Broken down it looks like this:
LLAN - FAIR - PWLL - GWYN - GYLL - GO - GER - YCH - WYRN - DROB - WLL - LLAN - TY - SILIO - GO - GO - GOCH
Now I struggle to say this, but he could say it perfectly - he wasn't Welsh by the way!
He then used the syllables of this amazing Welsh name to chug on the harmonica.
It sounded really good too.
Now I get asked a lot of questions about the harmonica…
… this was one of the more unusual ones.
In the international secret society of harmonica teachers, there's a saying…
(psst - can't tell you I'm a member because then it wouldn't be a secret society!)
Here's that saying:
"There's no such thing as a stupid question"
…which is why I encourage all my students to ask, ask, ask.
It's the only way to learn.
So what's your number 1 question about learning to play the blues harmonica?
Just reply on
now and let me know.
Let's jam soon
Ben "can't speak Welsh" Hewlett
P.S. I'll collate the questions and share them with you later this week. Then over the coming weeks I answer them, yours too. Watch this space.
P.P.S if you want to know how to pronounce Llanfairpwllgwyngyllgogerychwyrndrobwllllantysiliogogogoch then click here for the official website

Have you got a harmonica story? Upcoming gigs? Single or album release?
Newsdesk can help spread the word for you with our members
Please contact us at [email protected]

HarmonicaUK - Registered Charity 1131484 (England & Wales)