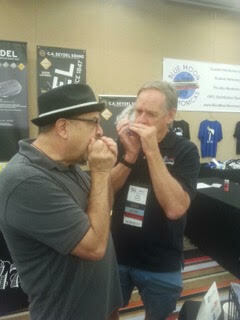 2022 will mark 60 years from the first SPAH meeting. This year will be the first since Covid, making the last two conventions virtual events.

The SPAH convention officially runs from Wednesday to Saturday, but people arrive from the previous Sunday, the convention is operating by Monday. The hotel reception
is a good place to be, as old friends and famous faces arrive.
Once underway, SPAH has several components. The evening concerts are in the main ballroom, here you will see Rachelle Plas, Howard Levy and Robert Bonfiglio. Workshops are in smaller seminar rooms during the day, presenters this year will include Dennis Gruenling and Ronnie Shellist. The evening concerts finish around 10:30pm, then themed jam rooms open up, for blues, county and other styles. A stage with an informal open mic session runs throughout the day.

SPAH is different from the much larger Asia Pacific Harmonica Festival which is mostly
about competitions. There are some informal jams, however most players are focused on their performances. At SPAH the program cannot fit the talent at hand, as so many
famous players are there just to play informally and meet old friends. These informal gatherings, in rooms, in the bar, the hallways, the lobby, the vendors room are the essence of SPAH.

Tony Eyers usually takes it easy at SPAH while his friends run about, preparing for their various performances. Not this time. As he's on the main stage at 7:30pm for Thursday evening show.
Taken from Tony Eyers email to HarmonicaUK.

Have you got a harmonica story? Upcoming gigs? Single or album release?
Newsdesk can help spread the word for you with our members
Please contact us at [email protected]

HarmonicaUK - Registered Charity 1131484 (England & Wales)